New eBook: Canada Company Registration for Middle East Entrepreneurs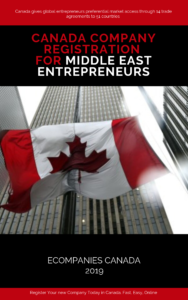 New Ebook
Buy the eBook for Only 60 AED
Today more than ever Canada offers a large number of commercial and business opportunities to middle east entrepreneurs and companies interested in starting commercial operations in Canada and exploiting the broad Canadian and American market.
Ecompanies Canada has created an easy and complete guide with all the steps, information, tips and forms necessary to successfully register and launch a new company in Canada.
Why register a new business in Canada?
Canada has opened the door to new markets—securing free trade agreements with the European Union and the growing markets of Asia—and kept the door open to our largest market through a modernized North American trade agreement. Canada has now comprehensive free trade agreements with countries representing nearly two-thirds of the world's total gross domestic product and is the only G7 country with a free trade agreement concluded with every other G7 country.
Canada is the only G7 country that offers Canadian companies preferential market access to over 1.5 billion consumers in 51 countries.
CUSMA
The Canada-United States-Mexico Agreement (CUSMA), signed in November 2018, modernizes NAFTA.
CETA
The Canada-European Union Comprehensive Economic and Trade Agreement (CETA) ensures nearly 99% of EU tariffs are duty-free for Canadian goods and guarantees market access to both the EU and North America. No other top investment destination in the Americas can offer access to all 28 EU Member States.
CPTPP
The Comprehensive and Progressive Agreement for Trans-Pacific Partnership (CPTPP) gives companies operating in Canada preferential access to one of the largest trading blocs in the world, including key markets in Asia and Latin America.
Buy the Book Now For Only AED 60.00
Content
1. Why register a new business in Canada?
2. Legal Forms of Business in Canada
2.1 Sole Proprietorships
2.2 General Partnerships
2.3 Partnerships
2.4 Limited Liability Partnerships
2.5 Corporations
3. Canadian legal forms of business available to non-Canadian residents
4. Canada company registration process for non-Canadian residents
4.1. Decide the jurisdiction of registration
4.1.1 British Columbia
4.1.2 New Brunswick
4.1.3 Northwest Territories
4.1.4 Nova Scotia
4.1.5 Nunavut
4.1.6 Prince Edward Island
4.1.7 Quebec
4.1.8 Yukon
4.2. Contract the services of a registered agent
4.3. Choose a company name
4.4. Request a Name Approval and Reservation
4.5. Prepare Articles of Incorporation
4.6. Prepare an Incorporation Agreement
4.7. Establish the initially registered office address and the
first board of directors.
4.8. Prepare and file an incorporation documents
4.9. Keep Documents as Part of Your Company's Records
4.10.Complete Bylaws, Organizational Minutes & Issue Shares
4.11 Organizing Your Corporation
4.12.Keeping your Canadian corporation in good standing
4.13 Opening Your Bank Account
4.14. Maintain corporate records
4.15. Preparing a Corporate Minute Book
4.16. Other corporate obligations
4.17. Obtain Permits & Licenses
4.18. Obtain a Canada business number
5.Income Tax for Non-Canadian Residents
6. Other Taxes
You can order the Book Now using the form below:
eBook Order Form
Canada Company Registration in 24 Hours for Only 6400 AED
Register your New company in Canada in 24 hours for only 6400 AED. Register TODAY your new trade company in Canada and start doing business in Canada in just 24 hours.
Faster Canada company registration service by one of the Canadian leading providers of corporate services in Canada. We register your company in just 24 hours.
Local references.
We have many satisfied customers within the UAE that have registered their companies in Canada with us.
Local Payments
You can complete your payment locally by bank deposit at any Mashreq Bank.
24 Hours Online Support
We offer 24 Hours Online support to our clients.  Want to register a new company in Canada from Dubai? Just send us an email to [email protected]
Our Canada Incorporation service for Only 6400 AED Includes
Name Search Report
Preparation of Articles of Incorporation and Incorporation Documents
Incorporation Agreement
By-Laws, Company Minute Book, Share Certificates
Canada Registered Agent Service for 1 year
Government Fees
Our Service Fees
Original Certificates
Copy of Documents in PDF
Taxes
Order Your Service Now or Request Information